With numerous applications, if you aren't already offering mulching services to your customers, it's definitely
Latest News
By Jennifer Klemmetson on May 24, 2017
Try a soil amendment to get your soil in optimal growing condition!
---
By Jennifer Klemmetson on May 22, 2017
Don't let grubs ruin that hard work and turn the green to brown this summer.
---
By Rick McNabb on May 19, 2017
There are three common types of water features best suited for residential projects.
By Jennifer Klemmetson on May 23, 2017
Warren Gorowitz was inducted into the Green Industry Hall of Fame for his contributions to the green industry over the past 22 years.
---
By Adreana Young on March 14, 2017
From the moment its doors opened last year, the store's team has hit the ground running serving customers and building relationships with people in the community.
---
By Kayli Hanley on March 2, 2017
As of March 1, customers in Arizona and Southern Nevada can purchase Rain Bird Golf products from Ewing.
May 16, 2017 in Total Landscape Care
Ewing's Vice President of Sustainability, Warren Gorowitz, talks about technology's impact on water management.
---
May 1, 2017 in NOOZHAWK
Ewing sponsors third place winner for the Water Wise High School Video Contest.
---
April 27, 2017 in National Geographic
Ewing Irrigation & Landscape Supply participates in WaterSense, along with others, saving US consumers some $33 billion over the last decade.
Most Popular
By David Olson on January 5, 2016 in Newsletters
By David Olson on November 9, 2015 in Newsletters
By David Olson on September 21, 2015 in Newsletters
Facebook
Ewing Irrigation & Landscape Supply is a third generation, family-owned company that traces its roots back to 1922. Ewing is a proud supporter of sustainable water solutions, a leader in the Green Industry, and is nationally recognized as a front-runner in providing quality products and excellent service. Great people, innovative products and a commitment to serve translates into an environment of success, opportunity and determination to provide a better future for our customers, communities, and our Ewing Family of employees.
Ewing Irrigation & Landscape Supply
Thursday, May 25th, 2017 at 3:24am
Healthy plants start with healthy soil. Find out how to solve these common soil problems so you can grow stronger plants.
Solve These Four Problems with Soil Amendments
You've probably faced at least one of these problems before, or maybe you even encountered them today! When the soil isn't in its optimal condition, it can be hard to successfully grow the plants you want to grow.
Twitter
Friday, May 26th, 2017 at 3:46am
Learn to grow your business at the Holganix Bionutritional Summit! Click here to find a summit near you! https://t.co/R1sao4VTCh https://t.co/Qq4z4nFHQm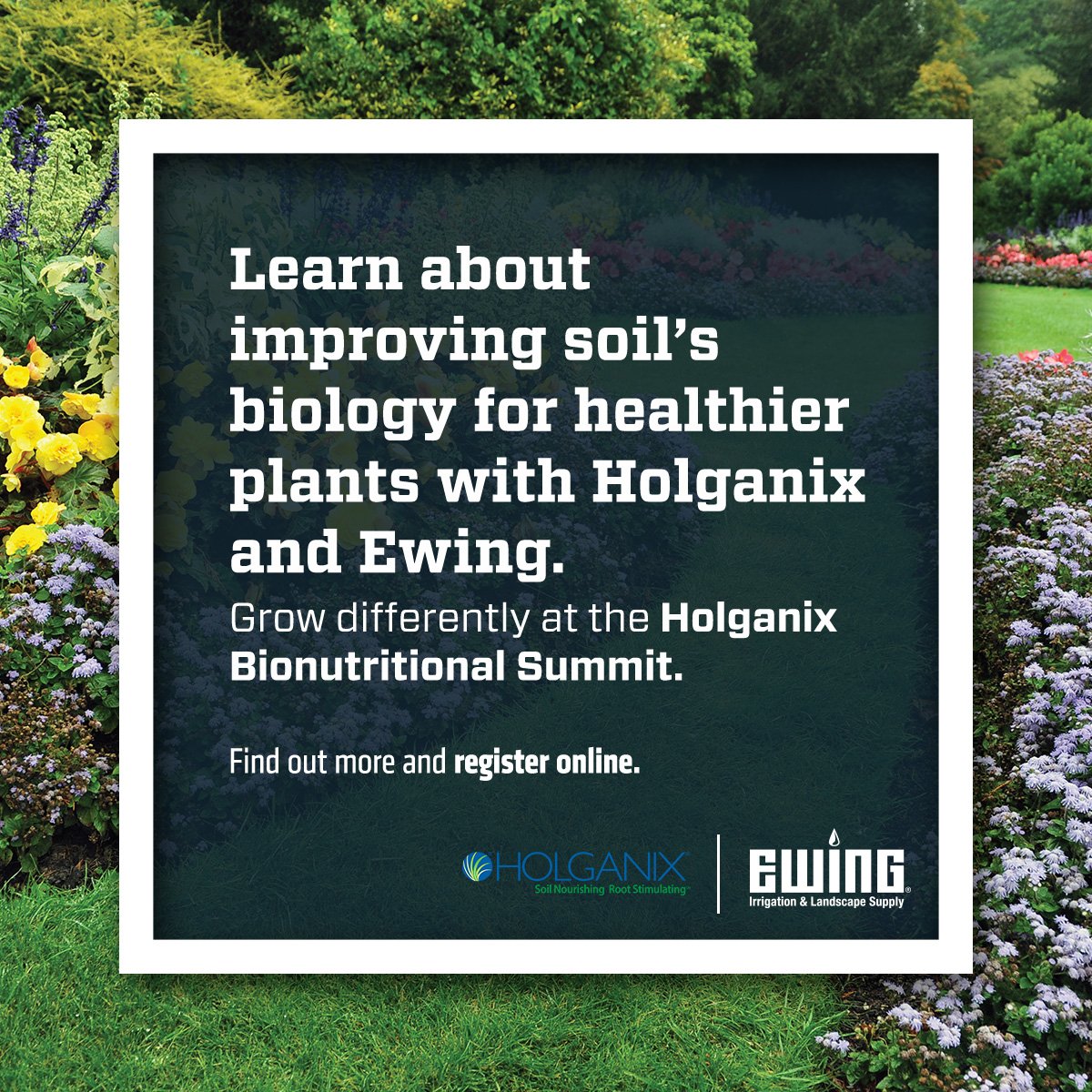 Wednesday, May 24th, 2017 at 5:42am
Ewing's @waterguru2 has been inducted into the 2017 Green Industry Hall of Fame! Thank you for all your hard work! https://t.co/ZZLtP2qrHL https://t.co/rwi0a4yW45