Ewing partnered with Oregon agencies to bring growers, farms and nurseries efficient irrigation designs at
Latest News
By Jennifer Klemmetson on March 22, 2017
Reclaimed water can be used as a water conservation practice in many states.
---
By Kayli Hanley on March 20, 2017
The X-CORE 4 Station Outdoor Controller by Hunter is an easy-to-use smart controller that takes the stress out of watering.
---
By Adreana Young on March 17, 2017
Networking through social media can help bridge the gap between tradeshows and stay connected with other professionals.
By Adreana Young on March 14, 2017
From the moment its doors opened last year, the store's team has hit the ground running serving customers and building relationships with people in the community.
---
By Kayli Hanley on March 2, 2017
As of March 1, customers in Arizona and Southern Nevada can purchase Rain Bird Golf products from Ewing.
---
By Kayli Hanley on January 30, 2017
Ewing's Jesse Cravath was officially elected to the board of directors for the Interlocking Concrete Pavement Institute.
March 9, 2017 in ALCA
Ewing's Stephen Wells discusses what to do when overseeded rye dies in the spring and how to have your Bermudagrass ready to go.
---
March 7, 2017 in Lawn and Landscape
Jason Paulson talks about the importance of supplier relationships.
---
March 1, 2017 in ALCA
Ewing's Jennifer Klemmetson writes about several ways Ewing works to meet their customer's needs.
Most Popular
By David Olson on January 5, 2016 in Newsletters
By David Olson on November 9, 2015 in Newsletters
By David Olson on September 21, 2015 in Newsletters
Facebook
Ewing Irrigation & Landscape Supply is a third generation, family-owned company that traces its roots back to 1922. Ewing is a proud supporter of sustainable water solutions, a leader in the Green Industry, and is nationally recognized as a front-runner in providing quality products and excellent service. Great people, innovative products and a commitment to serve translates into an environment of success, opportunity and determination to provide a better future for our customers, communities, and our Ewing Family of employees.
Ewing Irrigation & Landscape Supply
Thursday, March 23rd, 2017 at 7:01am
It's World Water Day! You can conserve water by using reclaimed water for your irrigation systems. Find out how here:
Using Reclaimed Water as an Irrigation Source
Reclaimed water has become a hot topic in recent years, as water conservation efforts have ramped up and droughts have plagued much of the country. If you're water-conscious, or have customers who are water-conscious, the thought of using reclaimed water for irrigation may have come to mind.
Twitter
Thursday, March 23rd, 2017 at 7:27am
Keep you irrigation system leak free with these 4 easy tips. #FixALeakWeek17 https://t.co/AtWecNq86U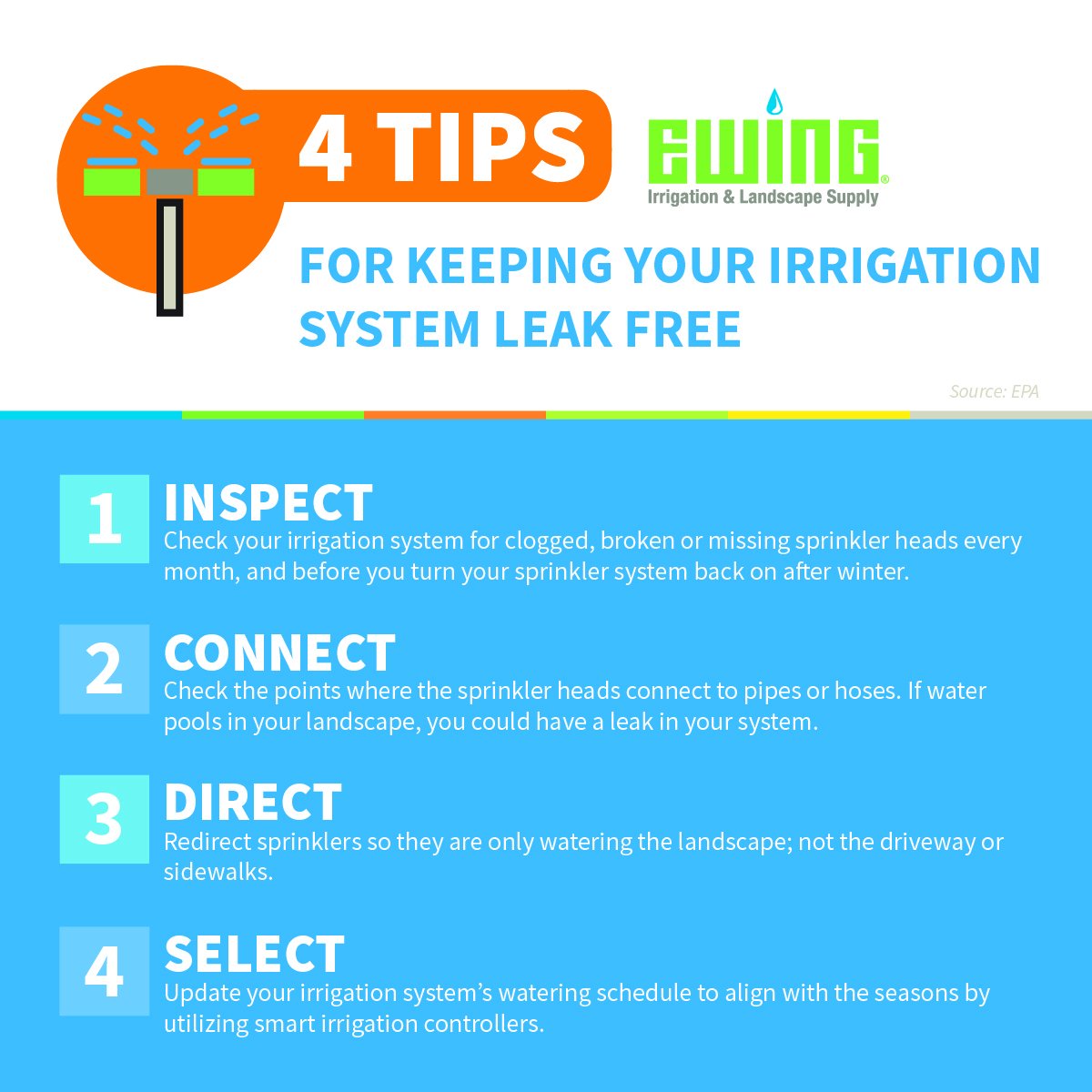 Wednesday, March 22nd, 2017 at 5:11am
Let Ewing help you grow. Come in today to find out more about our water management line and ag products. #EwingAg #SmartWaterSmartAg https://t.co/ZnBnGSTNj0